Ian Rothwell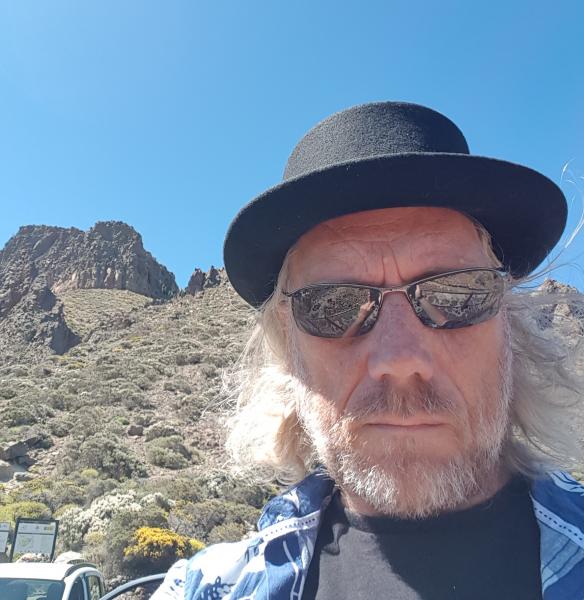 I first became interested in astronomy aged about 11. After hassling my parents on a visit to London they bought me a Tasco 60mm refractor from Harrods. Unfortunately, despite being advertised as an astronomical telescope it was actually a terrestrial instrument and when I used it on the stars hardly anything was visible. I almost gave up at that point.
To the horror of my parents I took the Tasco apart, removed the annoying corrector lenses, cut the tube down to size and made an eyepiece from an old pair of binoculars (destroying the binoculars also to my Father's horror!). I also had an interest in photography and decided to have a go at photographing the stars with my old Kodak 120 film camera. Of course I ripped out the shutter mechanism because it didn't have a 'B' mode (I don't think I told my parents about that one!) and did long exposures just by removing the lens cap and counting chimpanzees.
When I was about 15 I built my own 4in Newtonian reflector with a set of mirrors I bought for £20. I built the square 'tube' in my woodwork class at school and then built my own equatorial fork mount using old bits of wood and metal. This instrument served me well for a number of years and was particularly good for getting wide-field images with the camera piggy-backed and using it to track the stars.
I joined the BAA (first time) when I was about 16. I watched "The Sky At Night" religiously. I still have a couple of letters from Patrick Moore, one of which was when I thought I'd discovered a ring around Jupiter with my 4" telescope!
When I was about 21 I began building a 12" reflector, including building a permanent observatory in my parent's garden in Derbyshire. I also built a stepper motor controlled mount using a Jupiter ACE computer running FORTH (a programming language I discovered later was developed by an astronomer to control telescopes!). I'd just about got the 'scope completed when I landed a new and much higher paid job in Kent. After moving away from home I didn't get the chance to use the new instrument and ended up selling it.
A year or so later and feeling the "astro-bug" again I bought a second-hand Meade LX3 2080 from Billy Conally's next door neighbour. This was great because it was portable and had an electric "clock-drive", so I could use it with my Zenit 35mm film SLR to get superb images of the stars and planets. I attended the BAA meetings in London when ever I could and I was honoured to be in the presence of Patrick Moore, Heather Couper and Nigel Henbest.
A few years later my career took up more and more of my time, then I moved to Dorset, got married and we had two children. My old Meade was sitting in the shed for years, unused. I decided to depart the BAA, because I didn't really have the spare time. I sold the Meade, which was in a sorry state, on Ebay. My wife suggested I get another telescope, but I never got around to it.
Fast forward to today, my two boys are now grown up and my wife and I now divorced. My work is local, so no more huge commutes. I realised I have the time to get back into my passion from so long ago. I purchased a new 'scope and DSLR camera and, after moving house, built an observatory. Of course I had to re-join the BAA.
I have to say that the cameras and 'scopes available today are amazing. The images I can get with my 6" Newtonian never cease to amaze me, especially compared to back in the late 70's when I started. Just getting a fuzzy image of a star or Venus' crescent was a major achievement back then. What's also great is that there's a whole world community of amateur astrophotographers now, back when I started as a teenager I felt like I was the only one!
Well I have to say, I'm glad to be back taking pictures of the night sky and back in the BAA.
Pages
Copyright of all images and other observations submitted to the BAA remains with the owner of the work. Reproduction of the work by third-parties is expressly forbidden without the consent of the copyright holder. For more information, please
ask a question in the Website Help section of our Forum
.