Ronan Newman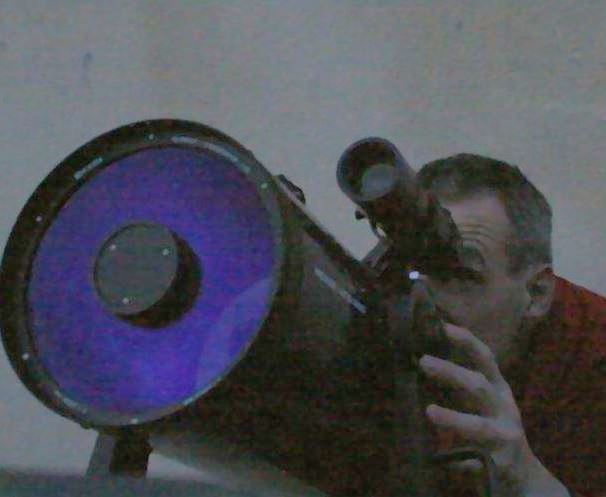 H. I am an amateur astronomer since I was 8 years of age and grew up in the country town of Claremorris, County Mayo, Ireland. Since then I have been interested in the hobby through its various forms including Noctilucent Clouds, the Aurora Borealis, Astrophotography, Comets, Binocular Astronomy, Deep Sky Objects, Double Stars and Meteor showers...My first telescope, an Xmas present from my parents was a spotting telescope with a maximum magnification of 35x, not bad...I could see Jupiter's Moons and the Phases of Venus.
But my journey really started after becoming a founding member of Galway Astronomy Club back in 1997 when Comet Hale-Bopp was trail blazing across the evening sky, Not long after I bought my first telescope a 6 inch home-made Dobsonian and in 1999 a Meade LX10 8" Schmit-Cassagrain and started reading Astronomy magazines. My involvement in the club spanned from starting off as Observing Director to becoming Secretary and eventually to Chairperson. I was the main organizer for eight of the club annual yet highly successful Astrofests from 2006 to 2016 andand club meetings/outings. In 2016 I was instrumental in helping the Mayo Dark Sky committee gain their eventual accreditation for a Gold Tier Dark Sky Park see https://www.darksky.org/our-work/conservation/idsp/parks/mayo/ and was founder of the original 2016 Mayo Dark Sky Festival.
Back in 2012 I was awarded to my great surprise the title of the Irish Federation of Astronomical Societies (IFAS) "Astronomer of the Year" for my work in furthering the hobby of astronomy in Ireland while also at the time being one of few people to have predicted and recorded several Auroral displays in the previous year.
My Observing Highlights would include, the great Aurora of November 17th 1991 and November 20th 2003. Comet Hyakutake near zenith with a 30 degree tail in April 1996, Comet McNaught (Mag -5) with a stubby tail at perihelion just after sunset on January 12th 2007. The Noctilucent Cloud display at 50 degrees high just after nautical twilight July 4th 2004. The mag. -16 bollide of August 27th 2003 same night as Mars came to opposition, the astounding view of the Orion Nebulae in a 600mm Dobsonian and finally my first view of Saturn one very early morning of 1998.
Having moved on from involvement in organizing club activities I now am writing and presenting my own talks covering my favourite topics like the Aurora, NLC's, Comets, Historical Astronomy, Deep Sky objects while this year I hope to dabble more in Solar Astronomy. I also enjoy attending the many Irish amateur astronomy events like COSMOS, The Skelligs Star Party, Solar-Fest, Mayo Dark Sky Festival and the Galway AstroFest as well as BAA events.
Follow me on (@newman_ronan): https://twitter.com/newman_ronan?s=09
My Present talks titles include
"1000 Years of the Irish Aurora: From Folklore to the Digital Age"
"Noctilucent Clouds: Ice at the Edge of Space"
"A Comet Tale: From Halley To Hale-Bopp"
"Frontier Worlds: The Realm of the Ice Giants"
"Enterprise to Endeavour: 30 Years of Human Spaceflight"
"Columbia: Triumph to Tragedy"
"Galileo: A Jovian Odyssey"
"T Corona Borealis & the Legacy of Millbrook Observatory"
My own page https://www.facebook.com/CelestialLightIrishAuroraHuntersHomepage
Irish Amateur Astronomy Events
•
Local society membership: Galway Astronomy Club
Pages
Copyright of all images and other observations submitted to the BAA remains with the owner of the work. Reproduction of the work by third-parties is expressly forbidden without the consent of the copyright holder. For more information, please
ask a question in the Website Help section of our Forum
.