Comet 41P Tuttle-Giacobini-Kresak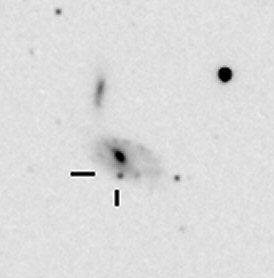 About this observation
Time of observation
25/03/2017 - 23:24
Object
Comet 41P Tuttle-Giacobini-Kresak
Observing location
Chelmsford
Equipment
Megrez 72, x0.8 FF + Canon EOS 600D

Image made using a small refractor. This is full-frame but scaled to 1/4 size. The FoV is approx 3.7 x 2.6 deg, N up. The detectable coma diameter is nearly 0.5 deg. Total magnitude is estimated as 7.7.
Copyright of all images and other observations submitted to the BAA remains with the owner of the work. Reproduction of the work by third-parties is expressly forbidden without the consent of the copyright holder. For more information, please
contact the webmaster
.