The Veil Nebula in Cygnus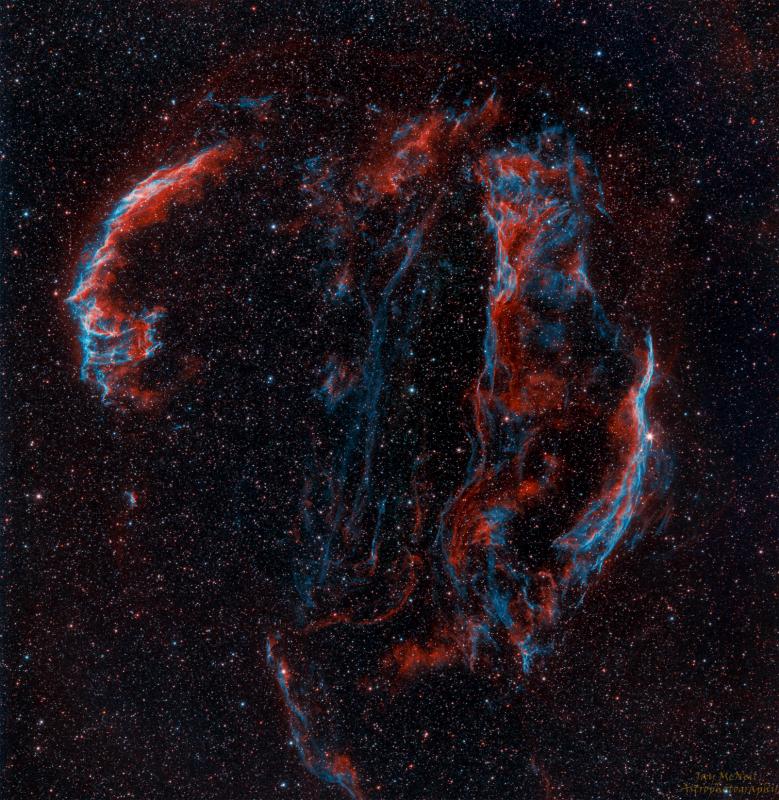 About this observation
Time of observation
10/08/2020 - 17:00
Observing location
Paducah, Kentucky, USA
Equipment
Canon 70-200 USM L lens set at 135mm and f/5.6
ZWO ASI183mm Pro CMOS camera

Exposure
40 ten-minute subframes using an Astrodon 5nm H-alpha filter and 41 ten-minute subframes using an Astrodon 3nm O-III filter
Back in the early days, when your PotW editor was learning how to image, I was lucky enough to run into Jay McNeil (of McNeil nebula fame) and we shared the sky on numerous occasions and in numerous locations. Since then Jay has been producing some amazing images from his home observatory in Kentucky, and this super shot of the veil wins the prize this week. In Jay's own words: The image was taken over a 4 night period from August 7 - 10, 2020. It was captured using a ZWO ASI183mm Pro CMOS camera attached to a Canon 70-200 USM L lens set at 135mm and f/5.6. The image is an accumulation of 40 ten-minute subframes using an Astrodon 5nm H-alpha filter and 41 ten-minute subframes using an Astrodon 3nm O-III filter. The image was processed entirely using Pixinsight, and Pixelmath was used to create an R/G/B image using an Ha/(.2xHa+.8xOIII)/OIII channel combination. I used 30 dark frames, 30 flat frames, and 50 bias frames. The image was guided using a ZWO ASI290 mini camera attached to a Stellarvue SV70T, all riding on an Astro-Physics AP1200GTO CP3 mount. Sky conditions were Bortle class 5, the moon was several days past full but bright and high in the sky during most of the image.
Thanks so much Jay for a great image.
Copyright of all images and other observations submitted to the BAA remains with the owner of the work. Reproduction of the work by third-parties is expressly forbidden without the consent of the copyright holder. For more information, please
contact the webmaster
.