Venus nightside at 1000nm 9th/13th/14th May 2020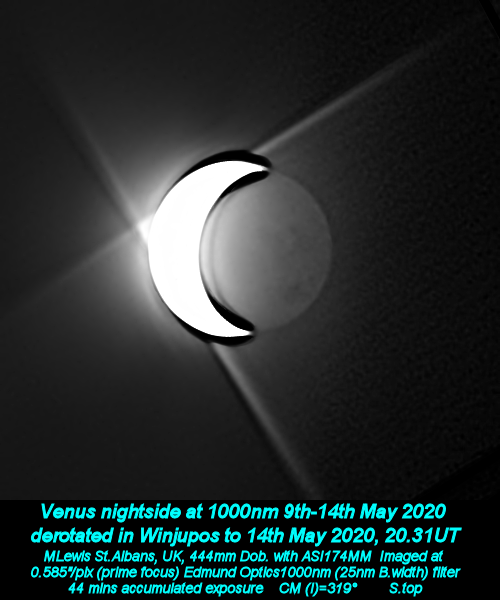 About this observation
Time of observation
14/05/2020 - 20:31
Observing location
StAlbans, UK
Equipment
444mm Dobsonian
Edmund Optics 1000nm IR (25nm bandwidth)
ASI174MM

Like This Image
Share
More 1000nm imaging of the night-side of Venus. This one based on data from 9th, 13th and 14th May derotated in Winjupos to the 14th May. Darker (cooler) areas seen in my image from last week have moved on by ~20degrees.
Dark arc by crescent is an artefact from the derotation process when you have a reducing crescent size
Martin
Copyright of all images and other observations submitted to the BAA remains with the owner of the work. Reproduction of the work by third-parties is expressly forbidden without the consent of the copyright holder. For more information, please
contact the webmaster
.