NGC4038 and NGC 4039 Antennae Galaxies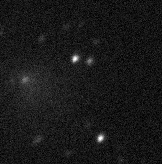 About this observation
Observer
Peter Goodhew FRAS
Time of observation
28/04/2019 - 14:07
Object
NGC 4038 and NGC 4039
Observing location
Fregenal de la Sierra, Spain
Equipment
APM TMB 152 LZOS refractors
10Micron GM2000 HPS mount
QSI6120wsg8 cameras

Exposure
21h20m total integration (48x600s and 56x300s L, 37x300s R, 32x300s G, 34x300s B).
Copyright of all images and other observations submitted to the BAA remains with the owner of the work. Reproduction of the work by third-parties is expressly forbidden without the consent of the copyright holder. For more information, please
contact the webmaster
.