And now for something completely different --- not an image of HL CMa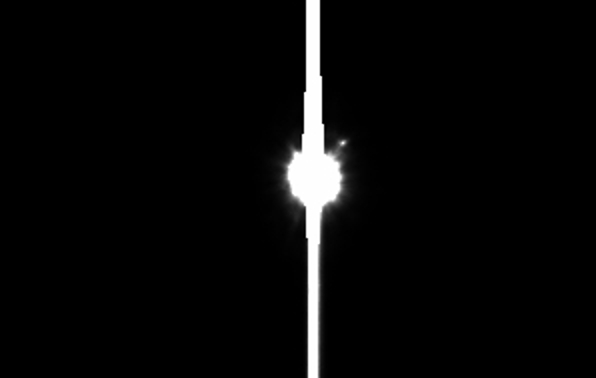 About this observation
Time of observation
30/11/2018 - 04:04
Observing location
Tacande Observatory
Equipment
0.4m Dilworth-Relay
SBIG-8 with AO-7 autoguider

Like This Image
Share
I was observing HL CMa, which is uncomfortably close to Sirius both for visual and CCD observers but at least there is a nice bright guide star nearby. Grotesquely over-bright, even with the minimum exposure time of 0.11s possible with a SBIG-8 / AO-7 combination . While waiting for the photons to arrive from the VS, I noticed to my surprise that Sirius B was occasionally visible in the guiding window.
After completing the real observation I took 100 minimum exposures of Sirius and selected the best one. Luckily the secondary is well away from the CCD blooming from Sirius which ran from top to bottom of the full frame, only a portion of which is displayed here.
An observation which was both serendipitous and Lucky.
Copyright of all images and other observations submitted to the BAA remains with the owner of the work. Reproduction of the work by third-parties is expressly forbidden without the consent of the copyright holder. For more information, please
contact the webmaster
.