Neptune with an ED80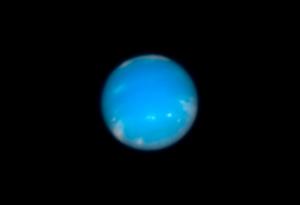 About this observation
Observer
Graham Winstanley
Time of observation
02/09/2018 - 02:01
Observing location
Bassingham, Lincolnshire
Equipment
Skywatcher ED80
Pier mounted NEQ6
QHY IMG2PRO at -20 deg
oag camera ASI120MM
Baader RGB filters

Exposure
RGB 10 x 60s per filter
Last year I managed to image Uranus with three of its moons so I decided to try Neptune, this time with colour. I have succeeded in capturing Triton but it is so close to the planet you will need to have a very close look. Nereid was indicated on Stellarium, well away from the planet, but I have not been able to find it on my image.At mag 18 I would need longer exposures.
Copyright of all images and other observations submitted to the BAA remains with the owner of the work. Reproduction of the work by third-parties is expressly forbidden without the consent of the copyright holder. For more information, please
contact the webmaster
.