Perseid meteor 20180805 00:41:43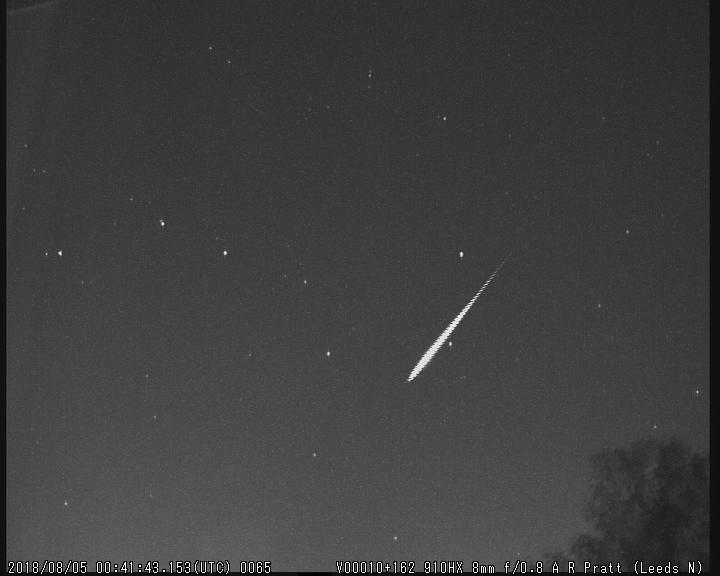 About this observation
Time of observation
05/08/2018 - 00:41
Object
Perseid meteor 20180805 00:41:43
Observing location
Leeds, West Yorkshire
Equipment
Watec 910HX camera
Computar 8mm f/0.8 lens
UFO Capture
UFO Analyser

Exposure
25 frames per sec (50 fields per sec)
Like This Image
Share
The Earth is now hurtling through the debris trail of comet 109P/Swift-Tuttle, giving us the annual Perseid meteor shower. Peak rates are expected on the night of August 12/13 which very favourably almost coincides with the New Moon. Dozens of Perseids can now be seen every clear night, even a week before maximum.
This example shows a mag -1 Perseid shooting down through the bowl of the Plough. Perseids are rather fast meteors, with geocentric velocities of 59 km/s. Other showers are also currently active, with slow alpha Capricornids and kappa Cygnids contrasting with the zippy Perseids.
Whether you observe visually or use DSLR, video or radio techniques, August should produce a bumper crop for the meteor observer.
Copyright of all images and other observations submitted to the BAA remains with the owner of the work. Reproduction of the work by third-parties is expressly forbidden without the consent of the copyright holder. For more information, please
contact the webmaster
.