Geminid meteor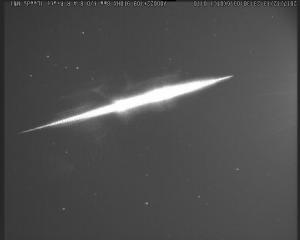 About this observation
Time of observation
13/12/2017 - 23:30
Observing location
Leeds, West Yorkshire
Equipment
Watec 910 video camera
Computar 8mm f/0.8 lens
UFO Capture
UFO Analyser

Exposure
1/25th sec (1/50th sec fields)
Like This Image
Share
Cloud cover increased as we neared the Geminid maximum on December 13/14, but thankfully the skies were not totally overcast and my video cameras took advantage of clear intervals and periods of thin cloud.
This is a composite image from the video clip of my brightest Geminid on the night of maximum as it travelled under the W of Cas. Its apparent magnitude was estimated as -4. (Image rotated 180 degrees).
Hundreds of Geminids were recorded on the night of December 13/14, with a notable (and expected) drop in rates on the following night. The post-maximum decline is evident tonight (December 15/16).
It's been a unique experience this week to carry out video astrometry of (3200) Phaethon in my observatory, knowing that my video cameras were recording its solar system debris ending its journey as it collided with Earth's atmosphere.
Copyright of all images and other observations submitted to the BAA remains with the owner of the work. Reproduction of the work by third-parties is expressly forbidden without the consent of the copyright holder. For more information, please
contact the webmaster
.