Re-emergence of UCSC4 410-143659 from behind Triton. 5th Oct 2017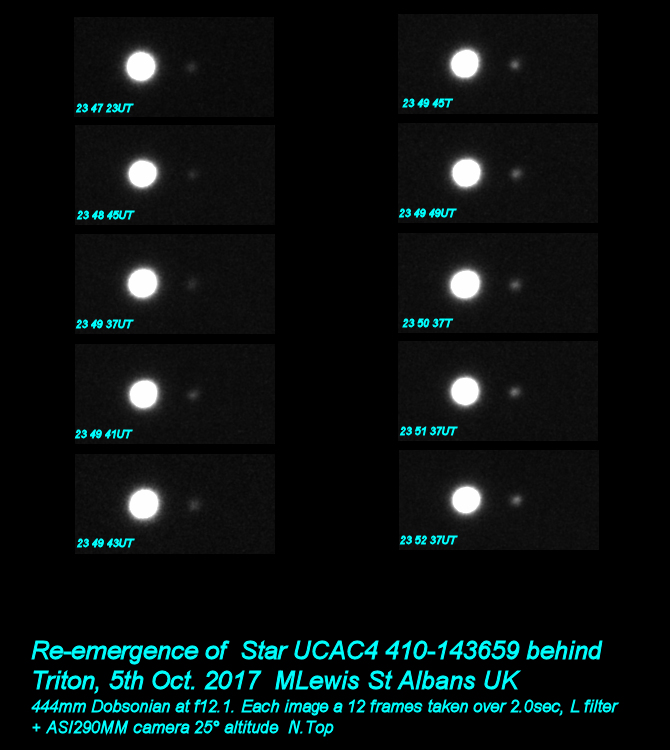 About this observation
Time of observation
05/10/2017 - 16:11
Observing location
St. Albans, UK
Equipment
444mm Dobsonian
ASI290MM camera
L filter

I managed to rescue something from my troubled observation of the occultation of Triton on 5th Oct.2017
I battled with equipment difficulties and breezy conditions as well as poor seeing- not helped by having to image directly over the warm roof of my neighbour's house in St.Albans. Observation was made from the pavement in front of my house as there was no suitable vantage point to view it in my back garden.
The composite shows Triton at different times during the event with each image being made up of a stack of the best 12 frames out of 20 taken during a 2 second period. Exposure time for each frame was 100msec and the scope ran at f12 with the ASI290MM camera at max gain. An L filter and an ADC were used. Timestamp on each frame was synchronised to a reference clock with Dimension4 software.
The composite shows the re-emergence of the star from behind Triton timed at 23-49-44UT
Copyright of all images and other observations submitted to the BAA remains with the owner of the work. Reproduction of the work by third-parties is expressly forbidden without the consent of the copyright holder. For more information, please
contact the webmaster
.