Perseid meteor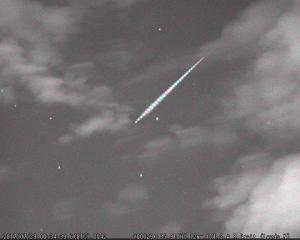 About this observation
Time of observation
29/07/2017 - 00:34
Observing location
Leeds, West Yorkshire
Equipment
Watec 910 video camera
12mm f/1.2 lens
UFO Capture
UFO Analyser

Exposure
25 frames/sec (50 fields/sec)
Like This Image
Share
An early Perseid meteor of apparent magnitude -1, streaking towards the bowl of the Plough asterism.
Copyright of all images and other observations submitted to the BAA remains with the owner of the work. Reproduction of the work by third-parties is expressly forbidden without the consent of the copyright holder. For more information, please
contact the webmaster
.